25-Aug-2017 : Rare Item Auctions!

Unapproved items are being sold during four special auctions today celebrate AA's 25 years. See Announcement Board for auction times.
25-Jul-2017 : Eat & drink contest!

Competition begins immediately after reboot on July 25th and lasts until Armageddon ends the world again two days later. Maker has cooked up some excellent prizes for the winners!
25-Jul-2017 : New cleric prayers!

Clerics can now call a painful hunger or taxing thirst on themselves, becoming insatiable for a time, though overuse can have lasting effects.
25-May-2017 : A new class!

There are rumours of a new way to master your mind and body in the far northern reaches of Infidian.
25-Apr-2017 : Anarchy!

There is total Anarchy from the 25th till the 1st of May! Dont miss out!
25-Mar-2017 : Bucca in Dymwood

A human living on Infidian claims he has found the fabled race of creatures called bucca living in Dymwood Dell.
25-Mar-2017 : Keepink collections

Keepink has expanded her museum and is now showing great interest in gems and minerals.
25-Feb-2017 : Paper mill

A family forced out of Gemynd has returned to its creative roots, reopening an old mill on the Dunadan river to revive an ancient tradition. Visit them and help them with their craft, the rewards for a hard days work are truly prized and unusual
24-Feb-2017 : Puppies

Rangers with patience to tackle the challenge can now breed their pets to enhance certain qualities.
04-Feb-2017 : AA is 25 years old!

Ancient Anguish is celebrating its silver anniversary all year long! Keep an eye on 'help events' for upcoming fun.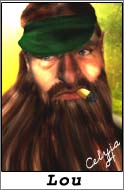 Name: Lou
Race: Dwarf
Gender: Male
Info: You can often find Lou barking out orders in the Commodities Exchange in Tantallon during daylight hours. Any person who has ever delivered packages for the CX can tell you that while Lou is a nice sort of guy, he is very good at holding grudges.
Quote: Hey, someone order some lunch, willya?