17-Sep-2012 : Eldar Housing

Players are now free to explore the residential area of Duender, the elven town situated on the western-most edge of the known world. Those brave enough to flex their tree-hugging muscles will find much to explore and might even get to own a place worthy of storing their hard-won loot.
30-Jun-2012 : Shifter Additions

Rumours of Bolders relatives have been heard coming out of Infidian. What they teach, and what they can do is still a mystery.
18-Feb-2012 : Online Reunion Feb 23 - 26

Join us from February 23rd to February 26th for a scheduled online reunion! Log in to say hello to those people you played with at work or in school, (or when skipping classes and ignoring your boss). See what's changed since you last stopped by.
04-Feb-2012 : Sweeping Website Additions

A large number of changes have been made to the website, including the ability to chat from the web. Please thank Paldin for a great effort!
03-Feb-2012 : Bugs and Turkeys Chess Board

To commemorate the year-long corruption of chess scores that has at last been fixed, we set up a Bugs and Turkeys chess board and hid it somewhere on Anguish. Because we couldn\\'t come up with very many species of turkey, we decided it would be best to allow the players to cry fowl when choosing sides on the chess board. To find the board, seek out the place with the most ferocious bugs. Thanks to Fir, with help from Wong, ScarecraZy, and Paldin!
02-Feb-2012 : Achrya

Achrya's enchanters have reinforced the energies in her medallions. Adventurers may notice an improved protective effect.
21-Jan-2012 : AAnniversary - AA Celebrates 20 Years

Please visit the Adventurers', Announcements, or Senate boards for information on the AAnniversary gathering in Philadelphia, Pennsylvania, from the 22nd to 24th of June!
16-Sep-2011 : World/Map Arch Changes

Kasmune has retired from the World/Map Arch position due to real life commitments. Please congratulate Eivu on his promotion to Arch of World/Map!!
27-Jun-2011 : New Player Awareness Increases

Thanks to Siawn and Theryn, it is now easier to notice if tragedy strikes our new players! Our newbie line has been updated to support newbie death notifications, sending experienced players to the rescue. Death's comment upon hearing the news: "Always look on the bright side."
05-Jun-2011 : Weather Forecast Improves!

While Oterim the Sage complains that gimpy leg still knows when the rain is coming, our weather system seems to have improved significantly. Thanks Wong!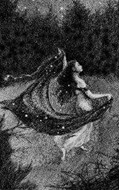 Name: Tinuviel
Race: Half-gnome
Gender: Female
Info: Prefers to be barefoot.
Quote: Ack, what did I step in?